By myKlovr
Labor Day is many things to many people. For adults, Labor Day is a well-deserved day of rest, a chance for one last summer barbecue or swim in the pool. But for college-bound high school students, Labor Day is often a day of uncertainty. How hard will my classes be this year? Will I have enough time for my favorite extra-curricular activities? How do I prepare for the SAT or ACT? What are my chances of getting into college? These are just a few of the questions that can make Labor Day a stressful day.
In this article we'll explore how students like you can start their year with a strong work ethic that will conquer the back to school jitters and impress college application counselors. So if you're ready, let's use Labor Day to make this school year a successful one.
The Back-to-School Jitters 
For many high school students, the beginning of the school year can cause the back to school jitters. This is especially true for students enrolled in honors and/or AP courses. By Labor Day, you might already feel overwhelmed by homework, projects, and upcoming tests. Even AP exams, still months away, seem like an impossible mountain to climb.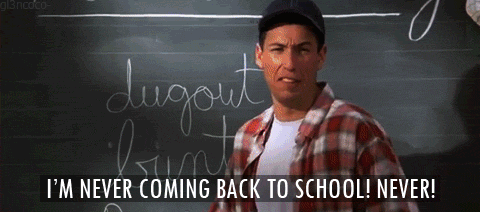 The best way to beat the back to school jitters is to face them head on. If the future workload feels overwhelming, use Labor Day to create a plan of action. How will you organize your time? Which class' homework/projects are best done first rather than last? Though the plan you create now will require editing as the year progresses, you will surely feel more confident about facing academic challenges in the year ahead.
Work Ethic
I'm certain that at least one teacher has told you that a strong work ethic is necessary for college application success. First of all, he or she was absolutely correct. But what does a strong work ethic look like? Is it the same for everyone? Let's find out.
A strong work ethic boils down to one word: consistency. A student will continue to perform well even when the pressure is on. However, 'well' is different for every student. A student struggling to earn Cs can have just as strong of a work ethic as a student making straight As.
You might think that a strong work ethic means giving your 100% throughout the year. Though a lofty goal, that's impossible, and will lead to burnout and frustration. Instead, promise to give 95% of everything you've got 95% of the time. And when you fail, pick yourself up and keep going. That alone is the sign of a strong work ethic that the best colleges want to see in their applicants.
Demonstrating Work Ethic on College Applications
If you're a high school upperclassman, the beginning of the school year brings thoughts of what's next. If college is on your radar, it's essential that your work ethic shines on your college applications.
Again, consistency is key when it comes to grades. If you struggled as an underclassman, demonstrating steady improvement throughout high school is another excellent sign that you applied a strong work ethic. Everyone, especially college admissions counselors, loves an underdog story.
Grades alone can't give potential colleges a complete picture of your work ethic. Your college application essays are just as important a piece of admissions success. For example, many students who struggle academically do so because of outside factors such as poor home life, poverty, or a past traumatic event. Using your personal essay to discuss these experiences, and how you worked to overcome them, is a powerful statement about work ethic that no high school transcript can convey.
Final Thoughts
Labor Day is just that, a day. Even if you spend dawn to dusk applying the advice in this article, the process will continue long after you return to school on Tuesday. Every day will bring new and unexpected challenges, but you will be ready to meet them.
So yes, definitely take some time this Labor Day to prepare for the future. You'll feel better, and be ready to enjoy that final summer swim or burger.